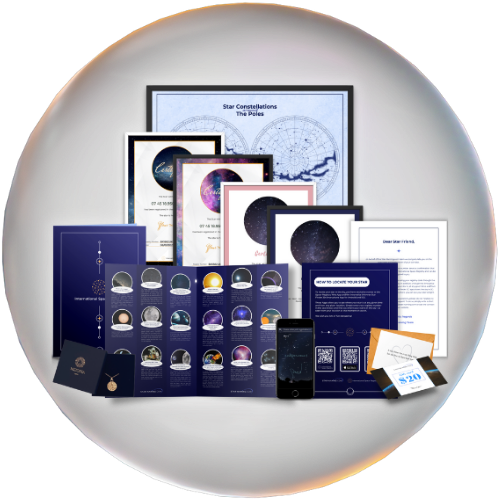 ---

---
As seen on...
We strive to deliver on great service (and even better quality!) and are humbled to call 50,000+ people worldwide happy customers.
Visible stars only
We only name visible stars. Not satisfied? - We will name another star for you until we have found one that fulfills all your wishes.

Registry entry
Your star will be entered into the prestigious International Space Registry. Every certificate bears the seal of the registry to guarantee its authenticity.

Star Finder App
With the help of our innovative online planetarium software & app, you can always see your star at any given time and location.
Free shipping
All orders are being prepared within 1 business day and shipped via UPS, FedEx or DHL.

Top-notch service
If you have a question or require help with an order, our customer service is always there and happy to help.
WHAT YOU GET WITH THE physical gift set
THE ULTIMATE STAR NAMING EXPERIENCE
WHAT'S IN THE PHYSICAL GIFT SET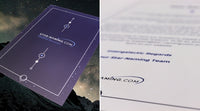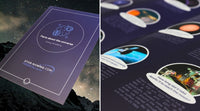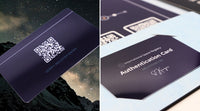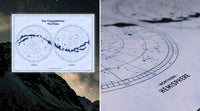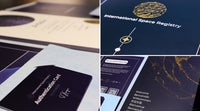 Our Gift Set
With our physical gift set you'll receive the following:
1.Certificate with seal - 2.Greeting Card - 3.Confirmation letter - 4.Star locator sheet - 5.Mini magazine - 6.Authentication Card - 7.Free XXL Star Chart Poster - 8.Presentation Folder - 9.ISR® Planetarium App
Certificate
The certificate is proof of the star naming.
We offer 7 different designs, so one of them is sure to be your dream certificate.
Both the paper (strong with structure) and the seal with gold finish are of the utmost quality and make the centerpiece of the gift set extremely high-end.
Greeting Card
With your personalized greeting card, you can send some kind personal words to the recipient. This will create an even more personalized gift experience.
No restrictions! You decide - word for word - what the recipient is going to read.
Confirmation letter
The confirmation letter is the official confirmation that your star has been entered in the International Space Registry.
It gives you information about the process of your star naming and the simple steps you can take to create the perfect experience.
Star Locator Sheet
The star locator sheet provides you with all the information you need to find your star at any time and from anywhere.
It provides you with direct access to the Planetarium app and software and explains how to use them.
Mini-Magazine
The "Facts about the Universe" mini-magazine provides you with seasonal information about the entire universe.
On 2 pages you will find 18 facts, figures and special features about stars, constellations, planets and galaxies.
Authentication Card
The authentication card is the direct route to your star.
Authenticate your star directly on the Space Registry website and find it with your individual registry number. Simply scan the QR code and go straight to where your star can be found.
XXL Star Chart Poster
The XXL Star Chart Poster is a gift from us to you! For a short time we offer the $19.90 poster for free with our physical gift sets.
On 23x15 inches you get a complete overview of the constellations of the night sky. A great extra!
Presentation Folder
Our presentation folder is high-quality, modern and designed to match the contents.
This makes it the perfect cover for the gift set and a real eye-catcher when unpacking!
Here, too, we spare absolutely no expense and offer a folder made of matt strong paper with an elegant glossy gold finish.
ISR® Planetarium App
Each of our customers receives exclusive access to the International Space Registry's 3D Planetarium App, which is linked to its registry.
By entering your individual registry number, you can find your star at any time and from anywhere - even when it's cloudy.
BUY TODAY 🎁 GET THE XXL STAR POSTER & A $20 GIFT CARD ON TOP
STAR NAMING OPTIONS AT A GLANCE
Check out our 3 star naming options and our Special Xmas Gift Box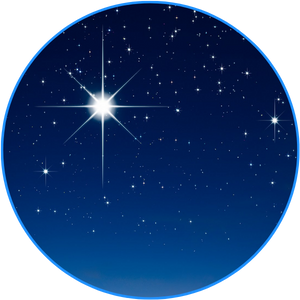 Name a guaranteed visible star. Select the brightness of your star.

Your star will be registered with the International Space Registry.

You will enjoy access to our planetarium app and software.
Name an exclusive star from the constellation of your choice. Select the brightness of your star.

Easy to locate in the night sky.

Your star will be registered with the International Space Registry.

You will enjoy access to our planetarium app and software.
Select two rare stars that orbit each other. Select the brightness of your stars.

Perfect way to celebrate the special bond between two people.

Your star will be registered with the International Space Registry.

You will enjoy access to our planetarium app and software.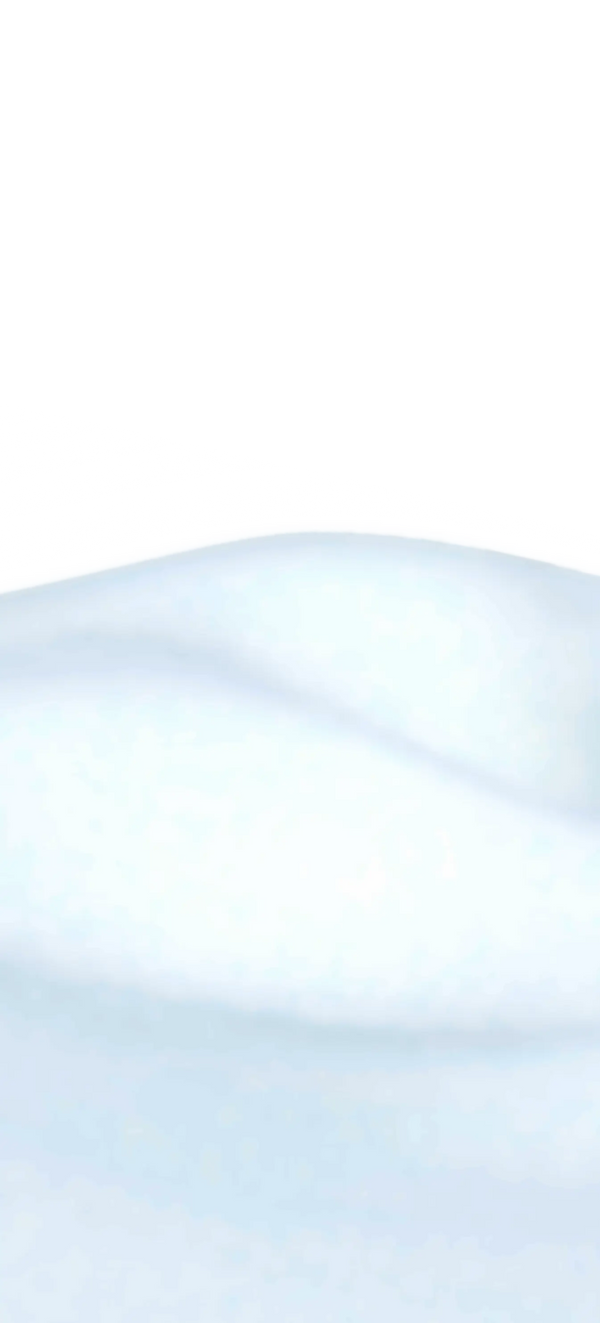 OUR ULTIMATE CHRISTMAS GIFT BOX
THE GIFT THAT NEVER STOPS GIVING
Heading
Content to Display
×
Very bright Supernova Star
Certificate + Premium picture frame
The complete Star-Naming gift set is included of course
Premium Golden - personalized -
Authentication Card
Personalized Zodiac necklace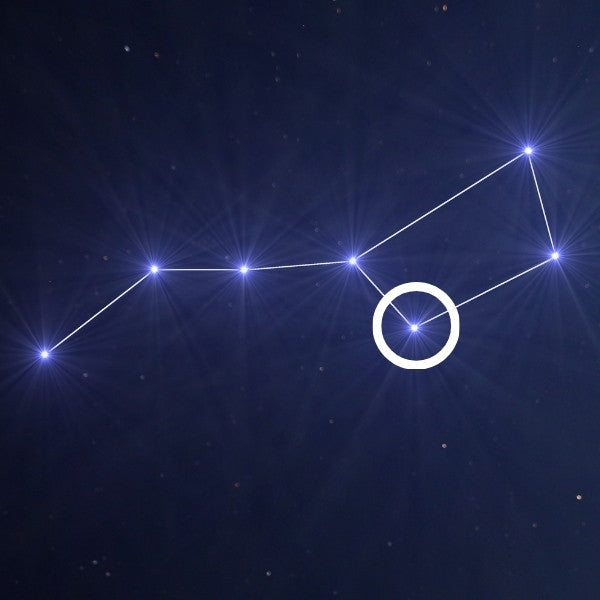 With our Supernova option you name a star from the constellation of your choice. This makes the gift even more personal than it already is. With the Special Xmas Box, you are always assigned a star in the brightness category: very bright. These are particularly easy to find in the night sky.
×
You choose your certificate and the premium picture frame of your choice. You can choose between all of our 7 designs and the picture frame colors black and white.
×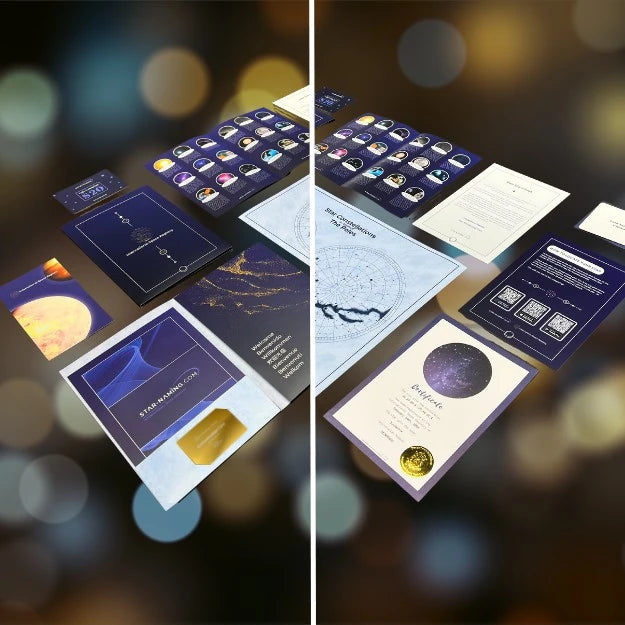 As base of the gift box you'll get our full on star naming gift set "PLUS", including: Presentation folder, star locator card, confirmation letter, mini-magazine, XXL star chart poster & custom greeting card!
×
Your personal star map provides an exact overview of your assigned name, coordinates, brightness, color, spectral type and distance to Earth of your star. It also contains an image section of your star from the planetarium.
×
Your personalized Authentication Card is the direct route to your star in the app. Scan the QR code and you will be taken directly to your star. The card also contains a summary of all the individual data about your star. Made of metal with a golden sheen, it makes a very high-end impression. It being of exact credit card size makes it fit perfectly in any wallet.
×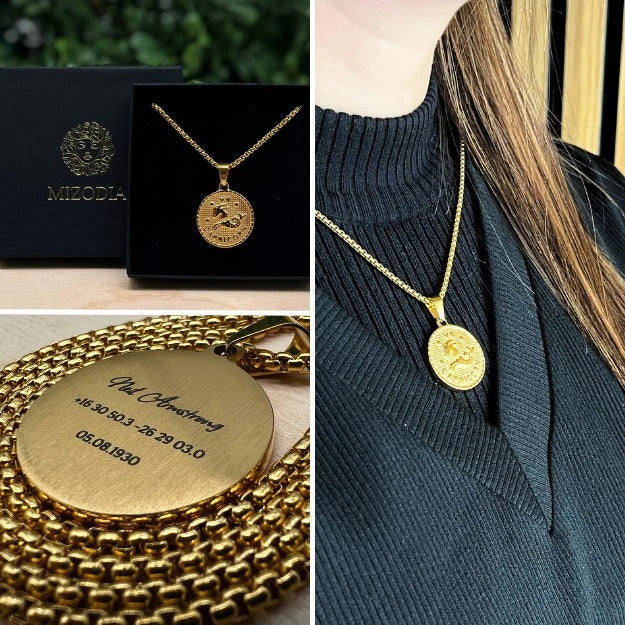 Your personal zodiac necklace is engraved with your star's name, its coordinates and the date of your regsitration. All zodiac signs available.
×
Our shooting stars are a part of a real meteorit that hit our planet earth in Argentina (Campo Cielo). As part of the Ultimate Xmas Box it symbolizes the star you named after your loved one!
×
Our gift box is of outstanding quality and impresses with its shiny gold finish and perfectly embedded foam surfaces, so the contents are presented in a particularly elegant way.
×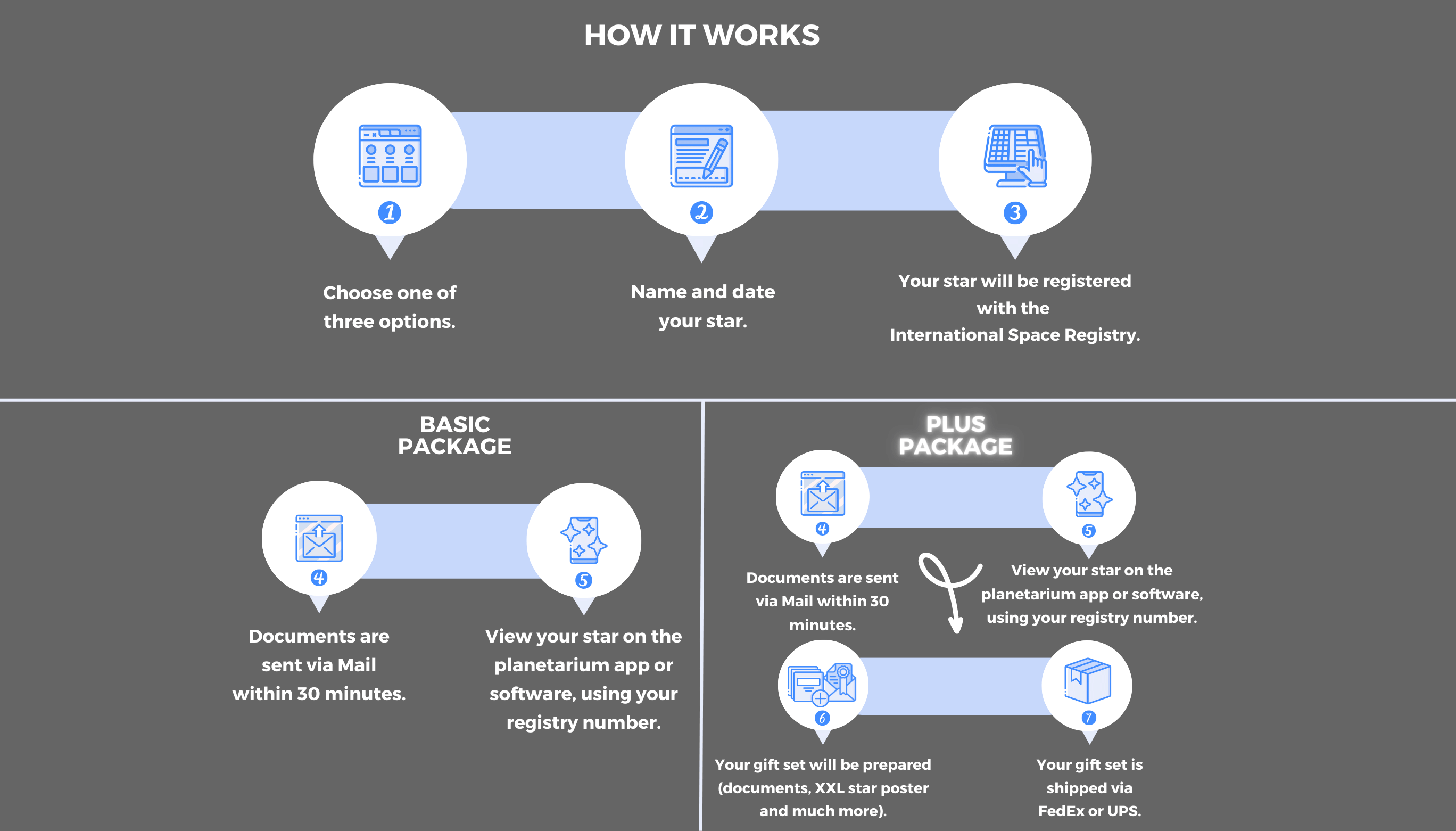 BUY AND NAME A STAR
BUY A STAR AND SURPRISE FRIENDS AND FAMILY WITH THIS VERY SPECIAL GIFT
With this special and unique present, you not only generate happiness and excitement but also opt for a gift attached to a long-lasting memory – a gift that will be there no matter what comes in the distant future.
We offer you several different options to consider when making the purchase of your star. They all have one in common: They can be individualized. This way, you can not only choose the name of the star you buy but also the date as well as any other information.
THREE UNIQUE GIFT SETS
CHOOSE FROM DIFFERENT PACKAGES
Name a star and bless your loved ones with it in a very special way: We bring you three different packages for you to choose your favorite from: You can choose a star which is observable from your home country! This way the star can be seen at night depending on the weather. You might want to use a telescope or a camera to get the best view. You can also buy a star which is part of a constellation. This is an interesting option for enthusiasts in astrology, astronomy, or other similar hobbies with interest in the night sky.
A GIFT THAT FITS ANY OCCASION
NAME A STAR - THE PERFECT GIFT FOR ANY OCCASION
With the purchase and the naming of a sta we offer you an exceptional idea for a gift that makes the recipient excited and happy. It suits every occasion and every person, from adults to children: Birthdays, baptism, graduation, marriage – a star is a very special gift for everyone, and you're sure to be rewarded with astonishment and joy when using a star as a gift. For you being able to display such an extraordinary gift, you will receive a small gift collection. After the purchase and the naming, the star will be registered at the International Space Registry with its own unique registration number.
STAR GIFT OPTION ONE
SILVERNOVA: OUR ENTRY INTO STAR NAMING
Do you want to give away a star and are looking for a low-priced option to do so? Then you could choose our Silvernova package. This gift-package contains a star which can be seen from USA. In addition to the naming certificate and access to our online planetarium, this
option also includes the prestigious presentation folder.
STAR GIFT OPTION TWO
SUPERNOVA: GIVE AWAY A STAR FROM A CONSTELLATION
Do you want to give away a very special star? Then we would recommend going for our Supernova package. It includes a star from a well-known constellation. The special position of the star (as part of a constellation) results in fast recognition in the night sky – often even with the naked eye, depending on weather and light-level. In addition to the certificate and registration confirmation, you can look forward receiving a beautifully designed greetings card. This results in a complete gift set – including access to our online planetarium.
STAR GIFT OPTION THREE
DUONOVA: BUY A RARE BINARY STAR
Do you want to give away a really special and nearly unrivalled gift? Then our Duonova package might be the best choice! With this set you buy two stars: A rare binary star! The Duonova package also includes a star map as part of the presentation folder which shows the exact position of the binary star. Of course, these stars will also be registered using your chosen name.
INDIVIDUALIZE YOUR STAR GIFT
THE CHOICE OF THE NAME IS YOURS
When you buy a star from us you can choose a unique name for it. You can go for a real name or for a fictional one. You can also register the star with a double-barrel name – so you are not bound to one word when choosing a name. The name you choose will be incorporated into the certificate for star baptism and into the actual registration entry, making your star individual and unique. When choosing the date, you profit from the same flexibility: Choose any date you want to!
THE ULTIMATE GIFT
WE TAKE PRIDE IN PROVIDING THE HIGHEST QUALITY TO A FAIR PRICE
When you buy a star from us and name it you can rely on a fair and well-balanced price performance ratio. Every package is designed with love and consists of a beautifully composed gift set. But there is more: We guarantee fast order processing: Your gift set will be sent to you within 3 days after the order has been placed and the payment was successful. Orders arriving before 3 p.m. will be processed on the same day. You do not have 3 days before the gift is due? No problem! Just go for the e-mail option and your certificate will be sent via e mail so that you can print it out rightaway.
WE ARE PARTNER OF THE ISR
ALL STARS ARE REGISTERED IN THE INTERNATIONAL SPACE REGISTRY
Our stars are an excellent gift idea for friends, your loved ones, your partner or your children. Even for grandchildren, colleagues, or distant relatives, a star is a suitable gift for many occasions that will surely leave a remarkable impression surprising the recipient and the people around you.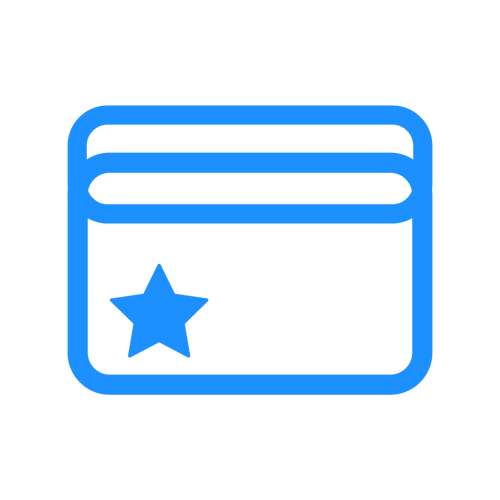 Secure Payment
Pay securely with the payment method of your choice.
Free Shipping
Physical orders are sent out within 12 working hours and will be shipped with UPS, FedEx or DHL.
Happy Customer Promise
Enjoy a money-back guarantee on all non-digital orders. Simply send back your order and receive a full refund on all non-personalized goods.